You may hear the terms 'FrSky' and 'Crossfire' thrown around a lot in the FPV drone space when just starting out. The wide-range of radio communication protocols may sound confusing at first and you may be unsure which protocol to start using. We've written this article to clear things up and provide some well-researched suggestions to help you on your FPV journey.
What are radio communication protocols?
To put it simply, the radio communication protocol is the link between your radio transmitter (or controller) and the receiver in your RC model. This is known as the transmitter protocol or TX protocol for short. As technology has progressed, it has allowed us to lower the latency in this link and add new features such as long-distance links and self-healing transmissions to maintain the link in poor conditions.
The receiver protocol (or RX protocol) is the signal between the receiver module and the drone's flight controller. These days we only recommend using a serial-based protocol – which almost every new model is using now. However, some older models may use protocols such as PPM or PWM.
How many Radio TX Protocols are there?
To date, there are at least 7 protocols which are still in use by many different RC hobbies – including FPV drones. We'll cover the main ones used by drone hobbyists and some of the older ones that aren't often used but are worth mentioning. We've also highlighted the most commonly used protocols.
FrSky D8
FrSky D16
FlySky AFHDS
TBS Crossfire
Spektrum DSMX (newer)
Spektrum DSM2 (older)
Futaba FASST
When choosing a transmitter, it's important to research which radio protocol you want to use and check to make sure both the transmitter and model you're flying can communicate using the same protocol.
What Receiver RX Protocol do I use?
The receiver protocol is almost always dictated by the receiver you're using. For example, a FrSky R-XSR will use the SBUS serial receiver protocol in Betaflight or a Crossfire Nano Receiver will use CRSF. This setting is set in the Configuration tab in Betaflight. We've outlined a general table of receiver settings used for protocols below.
| | | |
| --- | --- | --- |
| Transmitter Protocol | Receiver Protocol | Common Receivers |
| FrSky D8 (8 channel) | SBUS | TinyHawk FC, TinyHawk 2 FC |
| FrSky D16 (16 channel) | SBUS | FrSky X8R, FrSky XM+, FrSky R-XSR |
| TBS Crossfire | CRSF | Crossfire Receiver Nano |
| DSMX | SPEKTRUM2048 | Spektrum SRXL2 |
| FlySky AFHDS | IBUS | FS-A8S |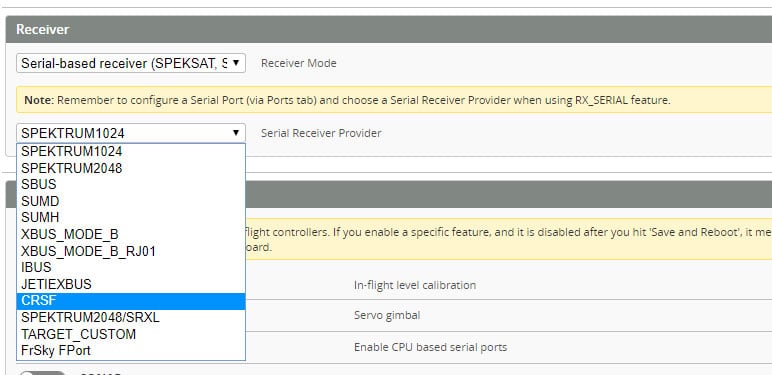 Which TX Protocol and Transmitter should I choose?
Given there are many options on the market now, it can be hard choosing your first (or next) transmitter. We've made some brief comments below on our top favourites right now and given some factors to consider before purchasing.
The Jumper T16 Pro V2 is a highly anticipated new transmitter from Jumper. Featuring a large colour LCD 4.3″ screen, hall sensor gimbals, and an expansion slot for modules like the TBS Crossfire. The real selling point of this transmitter is it's ability to use almost any protocol including FrSky D16, FlySky AHFDS, Spektrum DSM and many more.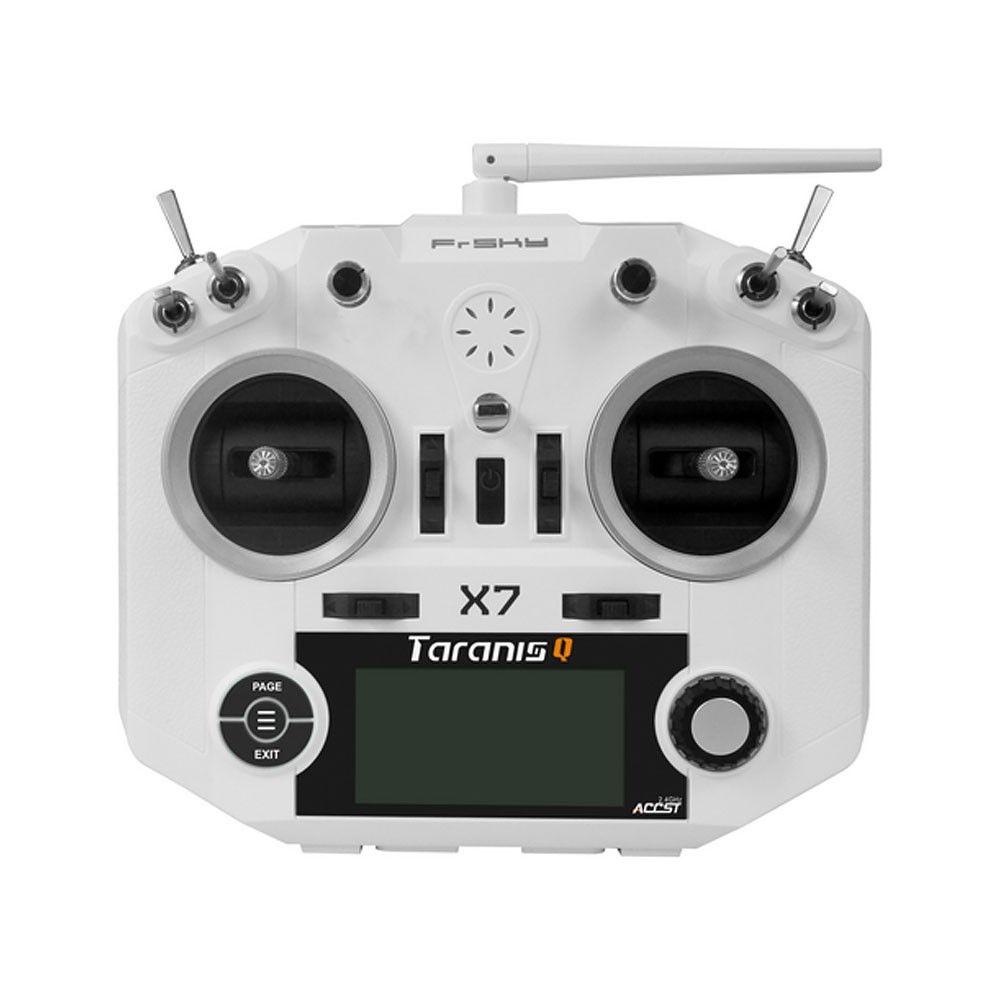 The FrSky Taranis Q X7 is our long-time favourite transmitter and holds up well in 2020. It runs the open source firmware 'OpenTX' and features a large LCD screen for ease of use when setting up models. The Q X7 can run both FrSky D8 and D16 protocols and has an expansion port at the back for adding modules such as the TBS Crossfire to extend the range.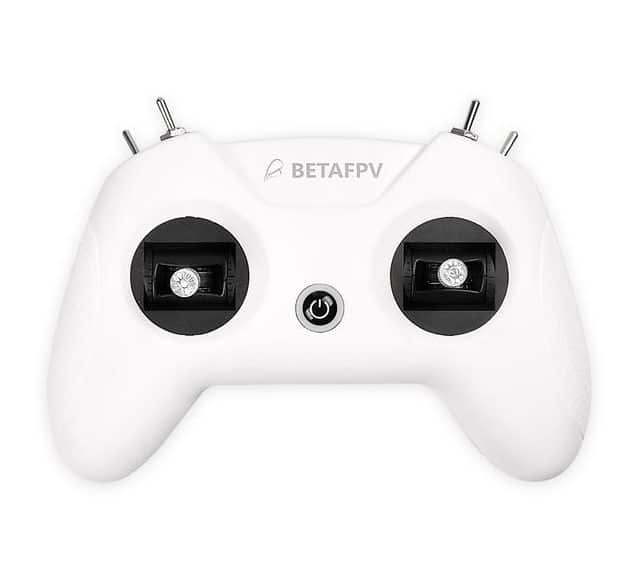 The BETAFPV LiteRadio 2 is a new 2020 Radio transmitter designed for beginners. It features a full FrSky D16 Protocol, full size gimbal sticks, and 8 channels. We think this might be the new best controller for beginners due to it's small size and full-feature list.
The FlySky FS-i6 runs on the FlySky AFHDS protocol and is a great transmitter for beginners on a budget. It has a few limitations however such as the ability to only use 6 channels and it can only use the FlySky AFHDS protocol which isn't widely supported anymore.
Conclusion
You should now have a better understanding of the difference between radio TX protocols and receiver protocols and an idea of what FrSky and Crossfire is. We hope you enjoyed reading our guide! Please let us know in the comments any questions you have any we'll do our best to help you.